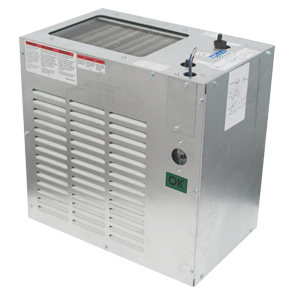 Online Price Includes GST and Shipping
Manufacturer:
Water Cooler Superstore
Online Price Includes GST Call For Shipping Quote
Sonata Series water cooling systems remotely supply chilled drinking water to a faucet or fountain.
Available in three different configurations to suit your application, whether it be a school-yard bubbler or workshop fountain.
Sonata remote drinking water systems deliver between 3.8 and 45.0 L/h (model specific) of water at 10 °C cooled from 27 °C inlet water at 32 °C ambient.
The evaporator uses copper evaporator tubes on stainless stell water storage tank, both of which are encapsulated in insulation.
The R-134a refrigerant system is hermetically sealed and refrigerant is capillary-tube controlled. An adjustable thermostat having an off position controls the refrigeration system.
Available in the larger capacity SMC30 or SMC45 model with galvanised steel finish or the lower-volume SMC4 with a powder coated cabinet and plastic front.
Optional accessories available for SMC30 and SMC45 include: wall mounted cradle and stainless steel grille and shelf support.
SMC30 and SMC45 models offer a 5-year limited warranty. SMC4 offers a 1-year warranty.
Model Selection Chart
Model
Rated Capacity
Compressor HP
Full Load Amps
Rated Watts
Cabinet Finish
Net Weight (Approx.)
SMC30
30.0 L/h
1/4
4.8 A
550 W
Galvanised Steel
24 kg
SMC45
45.0 L/h
1/3
5.4 A
620 W
Galvanised Steel
24 kg