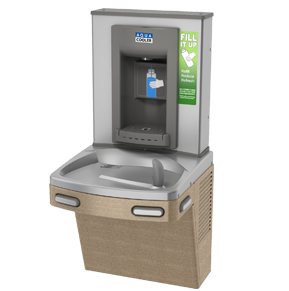 Online Price Includes GST and Shipping
Manufacturer:
AQUA COOLER Australia
The VersaFillerSeries of drinking fountains come in a wide range of configurations including single and dual level designs. The heavy duty galvanized steel frame makes these units extra durable for high volume applications. With the optional upgrage to vandal resistant design. The VersaFiller is perfect for schools, gyms and public areas.
To Download Data Sheet Click Here
Built-in 100 micron strainer stops particles before they enter the waterway.
Waterways are Lead-Free in materials & construction Flexible one-piece water saver bubbler
Stainless steel top and heavy duty galvanized steel frame
High efficiency cooling system and refrigerant R-134a
Four antimicrobial copper push pads
External stream height adjustment on lower unit
Hands free bottle filler with programmable shut off timer (hands free version only)
VersaFiller Series
Manual Dispensing
Automatic Dispensing
Filtered
Not Filtered
Filtered
Not Filtered
Refrigerated
Sandstone
VRMFS
VRMS
VRAFS
VRAS
Stainless Steel
VRMFSS
VRMSS
VRAFSS
VRASS
Vandal Resistant
VRMFVSS
VRMVSS
VRAFVSS
VRAVSS
Not Refrigerated
Sandstone
VMFS
VMS
VAFS
VAS
Stainless Steel
VMFSS
VMSS
VAFSS
VASS
Vandal Resistant
VMFVSS
VMVSS
VAFVSS
VAVSS
Housing Material
Standard cabinet finish: Sandstone powder coated paint on galvanized steel / Optional finishes (at additional cost): Stainless steel and optional greystone powder coated paint
Refrigeration
Uses R134A refrigerant

Water Inlet

Water Connections
3/8" O.D
Thermostat Control
The thermostat is factory set
Capacity (Cold)
30l/h
Power Consumption
450W
Electrical
220-240V, 50/60 Hz
Weight (Packed)
31kg
Warranty
Twelve month comprehensive