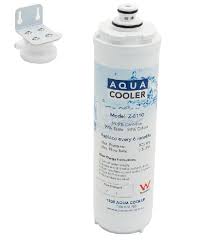 Filter Upgrade Kit For M Series Drinking Fountains | Aquacooler
Manufacturer:
AQUA COOLER Australia
Take your M-Series or WM-Series Drinking Fountains to the next level with this Filter Upgrade Kit. Featuring both the Z-8110 2-Micron Water Filter and Z-8115 Filter Head together in one kit and including all fittings, you've got everything needed to start drinking perfectly filtered and chilled water.
The most popular filter in our range, the WaterMark approved Z-8110 2-Micron Water Filter reduces 99% of Chlorine, Taste & Odour found in standard tap water.
Suitable for use with
Please contact us for more information on connecting to any of these units.
This self-housed filter is easy to install with the Z-8110 2-Micron Water Filter, which you can find here.
The Z-8110 should be replaced every 6 months and has a max pressure rate of 875kPa and a max flow rate of 3.5LPM