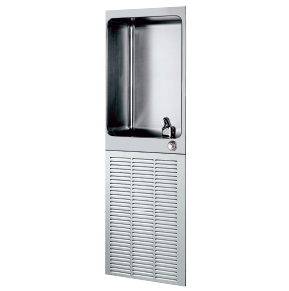 The Price Online Includes GST, Pease request a Shipping Quote.
Manufacturer:
AQUA COOLER Australia
Model:
MFR30MR 30lt Per Hour
The Mesa Series FR Range is a wall-recessed water fountain with a single refigerated drinking fountain. The Mesa FR is perfect for locations where space is limited. Thanks to its high efficency cooling system the Mesa FR is able to cool either 30 or 60lts of water.
The Mesa Range has a brushed stainless steel finish which ensures easy cleaning. The Mesa FR has an optional cup dispenser and filler along with a small waste bin for used cups.
To Download a Data Sheet Click Here
Waterways Are Lead-Free In Materials & Construction

Stainless Steel Surfaces

Welded, Heavy-Gauge Steel Wall Mounting Frame

High-Efficiency Cooling Tank and Coil

Refrigerant R-134a
Mesa FR Range
Manual Dispensing
30l/h
60l/h
Refrigerated
Stainless
MFR30MR
MFR60MR
Refrigerated
Stainless + Cup Filler
MFRS30MR
MFRS60MR
Housing Material
Standard cabinet finish: Sandstone powder coated paint on galvanized steel / Optional finishes (at additional cost): Stainless steel and optional greystone powder coated paint
Refrigeration
Uses R134A refrigerant

Water Inlet

Water Connections
3/8" O.D
Thermostat Control
The thermostat is factory set
Capacity (Cold)
30 - 60l/h
Power Consumption
340W / 620W
Electrical
220-240V, 50/60 Hz
Weight (Packed)
42kg
Warranty
Twelve month comprehensive coverage and three year compressor replacement.