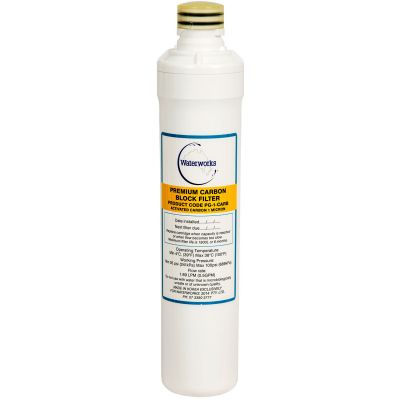 1 Micron Replacement Filter
Manufacturer:
Water Works
Model:
PG1- CARB -Water Works 1 Micron Replacement Filter | D Series | RM33 Drinking Fountains
Replacement Filter for all Water Works Bubblers and D Series Water Coolers
This filter is a silver impregnated cabon block for chemical taste, rust, odour and chlorine removal.
Easy filter changes no plumber required.
Filter should be pre flushed prior to attaching to equipment or after long periods of inactivity.
Do not use with water that is microbiologically unsafe or of unknown quality.
Turn water off to filter system if not in use for extended periods.
Automatic shut off valve automatically shuts off water supply to the system when filter is removed.
Filter life can vary depending on water quality and demand.
A 350Kpa pressure limiting valve MUST be installed.
Installation of your water filter system must only be carried out by a licensed technician and all aspects of the installation must comply with current local authority standards and regulations.