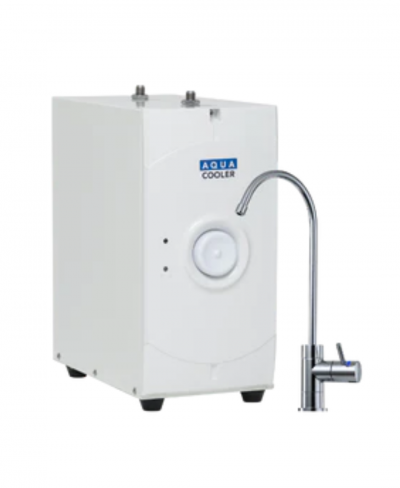 Price Online Includes GST & Shipping
Manufacturer:
AQUA COOLER Australia
Model:
Sonata Series Under Bench Water Chiller 3.8lt Per Hour
Online Price Includes GST & Shipping
Introducing the H2ONow Under Bench Chiller with Tap - an innovative and convenient solution for chilled water in your home or office. This Aqua Cooler design is thoughtfully crafted to sit discreetly out of sight while providing deliciously chilled, filtered water on demand.
With a 5L per hour chilling capacity, you can always have fresh, cold water at your fingertips. The included carbon filter kit removes chlorine, taste, odour, and fine particles from cold water, ensuring a refreshing and clean taste every time.
The stylishly designed tap is equipped with an LED reminder light, indicating when it's time to replace your filter (on filtered models), making maintenance easy and hassle-free. The filters can be easily replaced with a single twist off/on fitting, allowing you to enjoy the benefits of clean, chilled water without any complicated installation.
Key features of the H2ONow Under Bench Chiller with Tap include its space-saving design, 5L/h chilled water capacity, and a 12-month standard warranty. Additionally, if you are in need of replacement filters suitable for the H2ONow Under Bench Chiller, they can be conveniently found on our website.
Please note that under bench water filters may require installation in an area with proper ventilation to prevent overheating. With the H2ONow Under Bench Chiller with Tap, you can enjoy the convenience of chilled, filtered water without any compromises.
COLD WATER
Water Inlet: Supplied with installation kit including

½" female tap fitting to suit under bench hose cock (not supplied).


Water Outlet: Supplied with tap which is connected to

chiller unit via ¼" tube and included fittings.

TANK CAPACITY
4L
TANK MATERIAL
Stainless Steel
REFRIGERANT
60g R134a
ELECTRICAL
220-240V, 50Hz
POWER
150W
WEIGHT
12 kg
MAX. PRESSURE
400 kpa
MIN. PRESSURE
20 kpa
DIMENSION (WxDxH)
180 x 315 x 380 mm
WARRANTY
12-month standard warranty